UPDATE 1702 FOR SYSTEM CENTER CONFIGURATION MANAGER
EndPoint Management tarafında ki SCCM ürünü yaklaşık olarak 31.000 organizasyon tarafından kullanılmaktadır. Yapılan çalışmalar en az 70 Milyon cihazın yönetildiğini gösteriyor. Bildiğiniz gibi SCCM ürünü aynı Windows 10 gibi bir güncelleme modeline kavuştu. Yeni çıkması planlanan ürün aileleri birer version numarası ile temsil edilecek. Bahsettiğimiz güncellemelerin tamamı konsoldan otomatik olarak kurulabilecektir.
Technical Preview olarak çıkartılan bu güncelleme ile SCCM müşterilerinden geri dönüşler alınmaktadır. Production ortamında 1 milyon device üzerinde test edilmektedir. TP olan ürünlerin direk fiziksel ortama kurulması taraftarı değilim 🙂 Bundan dolayı bir süre daha beklemek de fayda var. Aşağıdaki konsol üzerinden güncellemelere erişilmektedir. Kurulum adımlarını farklı bir yazıda ele alacağız.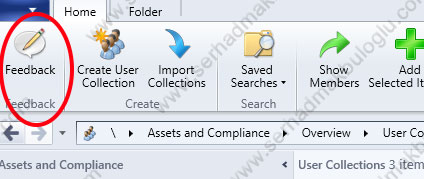 Gelen yenilikler aşağıdaki gibidir.
Support for Windows 10 Creators Update – This version of Configuration Manager now supports the release of upcoming Windows 10 Creators Update. You can upgrade Windows 10 ADK to the latest version for full OS imaging support.
Express files support for Windows 10 Cumulative Update – Configuration Manager now supports Windows 10 Cumulative Update using Express files. Fordetails see Manage Express installation files for Windows 10 updates.
Deploy Office 365 apps to clients – Beginning in version 1702, from Office 365 Client Management dashboard, you can start the Office 365 Installer that lets you configure Office 365 installation settings, download files from Office Content Delivery Networks (CDNs), and deploy the files as an application in Configuration Manager. For details, see Manage Office 365 ProPlus updates.
Customize high-risk deployment warning – You can now customize the Software Center warning when running a high-risk deployment, such as a task sequence to install a new operating system.
Close executable files at the deadline when they would block application installation – If executable files are listed on the Install Behavior tab for a deployment type and the application is deployed to a collection as required, then a more intrusive notification experience is provided to inform the user, and the specified executable files will be closed automatically at the deadline. This is currently the feature with the second highest number of votes on UserVoice.
Conditional access for PCs managed by System Center Configuration Manager – Now production ready in update 1702, with conditional access for PCs managed by Configuration Manager, you can restrict access to various applications (including but not limited to Exchange Online and SharePoint online) to PCs that are compliant with the compliance policies you set.
Android for Work support – You can now enroll devices, approve and deploy apps, and configure policies for devices with Android for Work.
Lookout threat details You can view threat details as reported by Lookout on a device.
Apple Volume Purchase Program (VPP) enhancements – You can now request a policy sync on an enrolled mobile device from the Configuration Manager console.
Additional iOS configuration settings We added support for 42 iOS device settings for configuration items.