CLEAN USER'S ACTIVE DIRECTORY SCHEMA FROM PREVIOUS LYNC INSTALLATION
Veri Merkezi projesi kapsamında merkez ofis'de kullanmış olduğumuz Lync Server 2013'ü yeni sunucu ortamına taşıyoruz. Bu işlemin adımlarını ayrı bir yazı da paylaşıyor olacağım. Lync Server'ı yeni ortamına taşıdıktan sonra kullanıcılara Lync hesabı açmak istediğiniz de aşağıdaki gibi hata mesajları alabilirsiniz.
Cannot move user in enable operation. Use the Move user cmdlet instead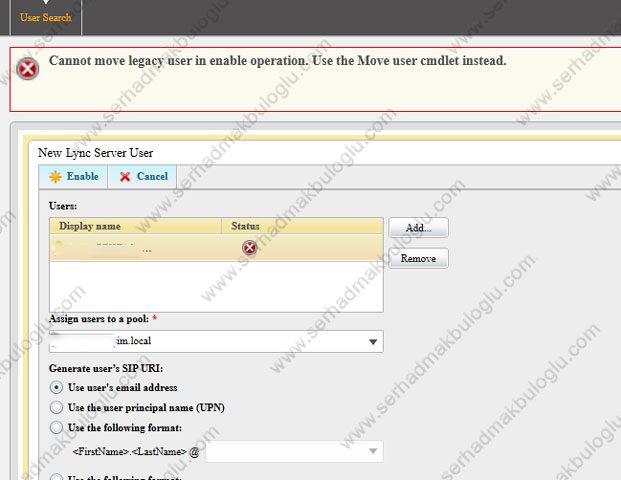 Karşılaşabileceğiniz bir diğer hata mesajı ise aşağıdaki gibidir;
"RegistrarPool" with identity "1234567890" assigned to "sip:abc@domain.com" has been removed from the configuration store.
Bu durumun sebebi, eski ortama ait özniteliklerin hala kimi kullanıcılar üzerinde bulunuyor olması'dır. Aşağıdaki değerlerin tamamını kullanıcı hesapları üzerinden ADSI Edit kullanarak temizlemelisiniz.
msRTCSIP-ArchivingEnabled
msRTCSIP-FederationEnabled
msRTCSIP-InternetAccessEnabled
msRTCSIP-OptionFlags
msRTCSIP-PrimaryHomeServer
msRTCSIP-PrimaryUserAddress
msRTCSIP-UserEnabled
msRTCSIP-UserPolicies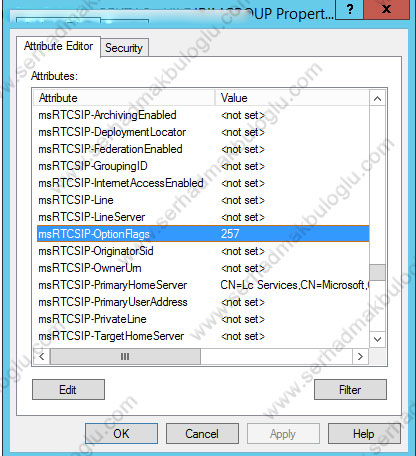 Bu işlemden sonra Lync hesabı tanımlayabilirsiniz.